NEW ULTIMAKER 2 EXTENDED NOW AVAILABLE TO USE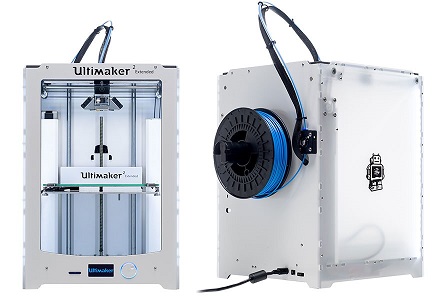 Updates:
18 September 2017 New Ultimaker 2 Extended now available to use
1 March 2016: an online STL file fixer (thanks to James - jpr55)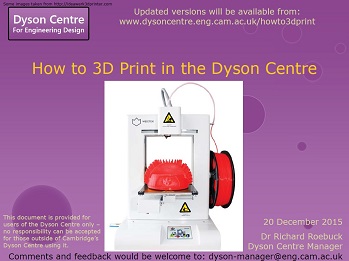 "How to 3D print" sessions: four sessions have now run - please make contact with the Centre Manager (rlr20) if you would like further sessions to run.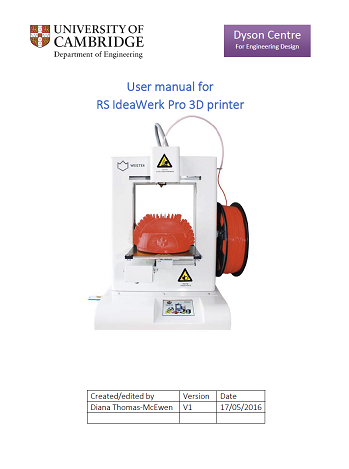 Overview
We currently have five RS/IdeaWerk and two Ultimaker 2 Extended machines for use by undergraduates.
Undergraduates are able to operate the RS/IdeaWerk and Ulimaker machines if they have been shown how, or if they have not been shown how, please see the Powerpoint slides or the manual above/below (note they are quite detailed as they cover everything we think you might need to know). Ultimaker slides to follow soon.
RS Idea Werk Information
Ultimaker Information
The Ultimakers produce more high definition print and have more options and are therefore more complex to both use and create the file to use with them. We would recommend using the RS Ideawerk printer before using these.
---
Note that for Researchers and Members of Staff, if you desperately need some parts producing, then you may like to consider one of the "bureau" services offered by one of the many companies out there:
Software
The software for generating files for the IdeaWerk RS 3D printers (known as Doraware-P) is now installed on all PCs in the Dyson Centre or download at home
The Ultimaker 2+ Extended and 3 Extended both use Cura. This is also installed on all of the Dyson Centre machines and can also be downloaded from the Ultimaker Website for home use.
Paying for your 3D prints
You can now pay for your 3D prints through EPOS click now on the link below to access the payment page.
www.dysoncentre.eng.cam.ac.uk/pay
Note: The printing charges are £1 per every 30g printer (to the nearest whole pound), Postgraduates have an additional charge of £7 for every £7 worth of printing.
Don't forget to fill out a charge sheet and write on 'EPOS payment' or we would not know you have already paid for your prints!
---
Special and Other Filaments
DRP39, 13 OCtober 2021